Most agree that for sporty rivers and inshore use Alpacka's comprehensive and innovative range of pack rafts are still the leaders in this field. There are a couple of other manufacturers of proper portable rafts in North America, while at any holiday resort you can buy cheap PVC 'slack raft' pool toys that are OK, while they last. Slackrafts get their own page and are a great way of investigating the packrafting experience before you splash out on the real thing. All the boats described here I've only seen in pictures – I haven't used them but they're previewed to compare against the Alpackas I do know.
Feathercraft Baylee River Runner
Canadian folding kayak makers, Feathercraft introduced a couple of basic BayLee packrafts in 2010 and consolidated their range in 2011. Several years ago Alpackas were actually made under contract at the FC factory in BC, so something like this was bound to happen as packrafting caught on.

They call the one-person BayLee a River Runner (right) which comes in two sizes and two material weights. There are two larger rowable BayLee Sail Boat Tenders which have an optional skeg (effective for rowing, less so for kayak-style paddling) but these models weigh up to 9kg so can't really be considered packrafts.
The smaller River Runner is the closest thing to an Alpacka Yak: 2 metres long, just under 1m wide, 136kg payload and just under 3kg in weight without the skirt where a Yak is 2.2kg. Inner length is said to be just 39 inches from the seatback (Yak is 44″ max), but the urethane-coated fabric used is similar to Alpackas. The larger BayLee 2 River Runner (left) is the smaller row boat model but can be used as a packraft. It's 2.2m long and has another 90-kilos of payload with room for two or a moose carcass.
All BayLees are made with two air chambers, left and right, and each chamber is RF welded and then the two halves are glued and taped together so there are only visible seams at each end as in the photo above, giving a much smoother look and less chance of leaks. They feature chunky, one-way Halkey Roberts rafting valves similar to that pictured left and which might be considered overkill. Like Alpacka, they also have the mouth top-up valve and use a very light inflation bag.
Feathercraft also
have a self-bailing option for the River Runner (pics left and right) which drains fast, just like big, white water rafts. Although this adds weight, more expense and I imagine may slow the raft down on flatwater, self-bailing is an alternative to a spray deck for pure white water packrafting. The big question is, would a heavy person like me end up sitting in water – the flaw with some self-bailing IKs with inadequate buoyancy. With that seat, probably not. Spray decks get in the way if you want to get out fast and already have thigh straps to deal with. Since the BayLee SB came out the original and flimsy Alpacka spraydecks have become more kayak-like with a skirt combing and so better suited to that task. Certainly on my Alpacka I'm reluctant to use the earlier-style flimsy skirts, but I don't do radical white water. Feathercraft also went on to adopt Alpacka's more pointy-ended hull profiles, though not so noticeably.
NRS Packraft
NRS' tough MaverIK introduced me to inflatable kayaking in Idaho all those years ago. Now they have a single packraft in their line up. At over 80 inches (2m) the NRS Packraft is similar to an Alpacka Fjord Explorer, ie: a pretty roomy 2-person boat, but the NRS is a tad shorter, narrower, a pound (18%) lighter - and more than half the price of an Alpacka Fjord. But check out the NRS website reviews – not so glowing reports with regards to durability. Here's a video with Alpackas that also features an NRS packraft with two Alpackas on a small Scottish river.
It has a nice thick floor too, and like the FC BayLee features two chambers. I've read that in some rivers and parks in the US, the authorities have a certain minimum requirement of chambers for inflatable craft. Can you paddle a packraft with one chamber flat? I doubt it, but I suppose you can hold on to the inflated remains of your boat and kick for the shore. Of course, an Alpacka has technically 4 chambers: hull, seat (2) and the anti-pooling 'codpiece' on the Mk2 spray skirt. Using an airmat floor makes 5 – enough for an inflatable party. I must admit that a mile out in the
middle of a Scottish loch, if for some hard-to-fathom reason my Alpacka lost all air, I'd be happy to hold on to something that floated. It's one reason I like my UDB (left) which can be an airtight chamber of no less than 96 litres in volume that can be easily fully inflated via the elbow valve.
Supai Flatwater Canyon II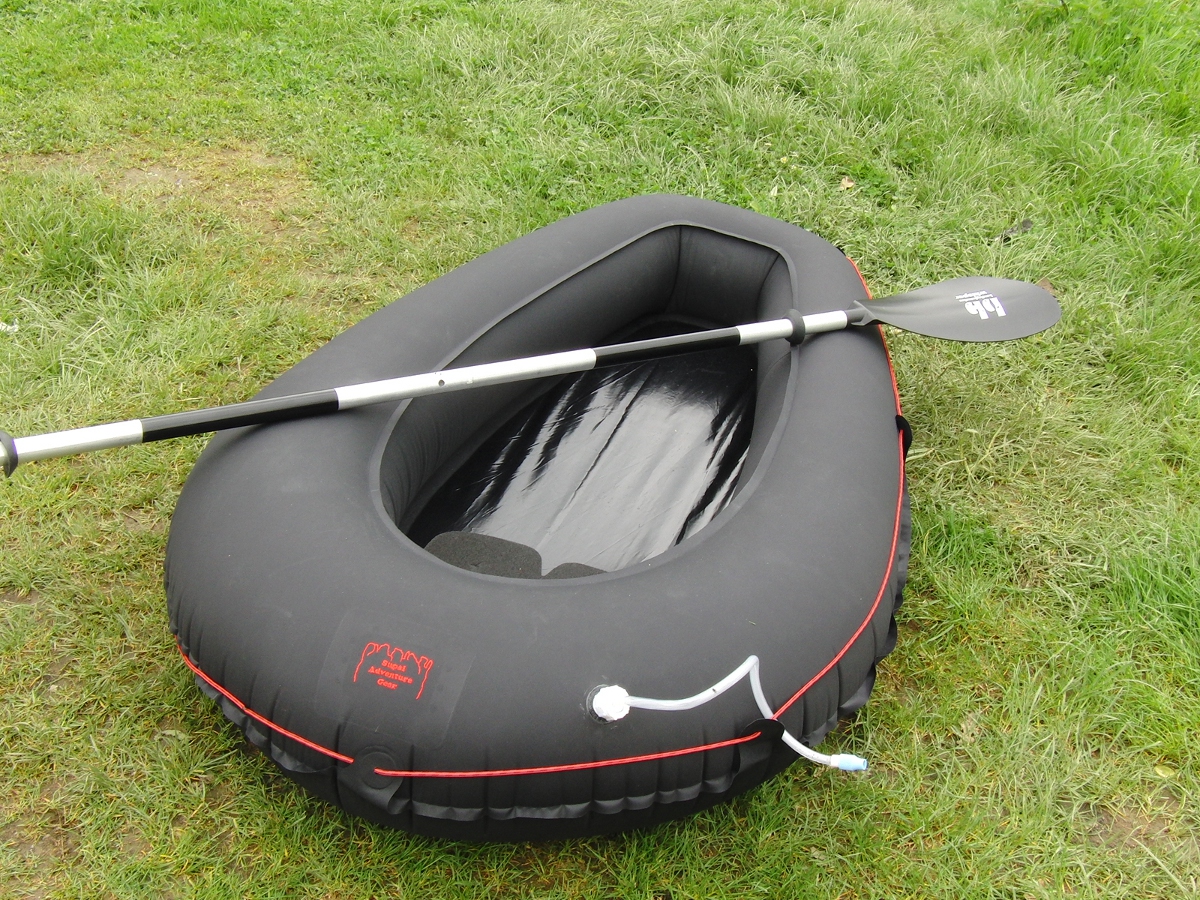 As the name suggests, the 633g (22oz) Supai Flatwater is more of an ultra-compact trail boat suited to occasionally crossing small lochs and rivers rather than touring along them. With its narrowed and thinning bow it closely resembles the much admired old Sevylor Trail Boat, (STB; above right), and seems a more sophisticated and notably lighter take on the Flytepacker (below).

The Supai's numbers add up to: 106cm (<42″) wide, 174cm long and 115cm inside. By comparison my 'fastback' Yak is 11cm narrower, 55cm longer (improving tracking) and 5cm longer inside, but weighs about about four times as much and is much bulkier.

What looks like three sections of coated polyester are heat-welded together, rather like an MSR Dromedary water bag (left). To add buoyancy where it's needed the Supai has a 'differential cut', like a slackraft and the STB above. There's more diameter and so volume and buoyancy in the rear where the weight is. On the overlapping exterior seam they've left and reinforced a few tabs for running a grab line or assisting luggage attachment, but a pack might be better inside (picture, top of page) I've paddle my Yak that way: the visibility's better and the comfort isn't so bad. 

The Supai's long inflation tube screws onto a larger port for quicker inflation/deflation (no Alpacka-style air inflation bag). It means you can top the pressure up on the water. Any inflatable looses a bit of pressure once put onto cold water and needs a few puffs to firm up and perform better.
Flatwater's are rated at around 250lbs or 110kg which for someone like me (90-95kg) might be on the limit with a camping pack unless water was calm. This was the flaw I found in trying to make a modern STB out of a trimmed-down slack raft: not enough rear buoyancy for my weight, although that trick worked fine for my mate Jon,
so for lighter persons the Supai sounds just the job. by comparison I've been two-up (~160kg) in my Yak with no problems, providing I paddled smoothly. I wonder if Supai might consider producing an 'HV' (high volume) model. Another two or three inches diameter (losing inner width which the FCII has to spare) couldn't add more than 200g to the overall weight. And dare I say add an extended Alpacka-style stern which I thought was an ingenious solution to tracking and back-end buoyancy. Adding volume and so buoyancy (without excessive width like a
Flytepacker or unskinned slackrafts) means you don't have to mess about with skirts or self-bailing to make the raft less swamp-prone when conditions become less calm. Swamping like this may be no drama in sunny Utah or the Ardeche, but mid-loch in Scotland isn't so agreeable, even if the boat will not actually sink. I say all this but I haven't actually sat in a Supai to find out if it's suited to my weight.
The Flatwater fills the gap between cheap slackrafts and pricey Alpackas, but like a slackraft needs careful handling to avoid damage to the lightweight fabric; first thing I'd do is add a 'heel patch' up the front. Supai users' impressions here and here. Sold in Germany for €300 or $300 in the US.
Flyweight Designs in the US make the basic and light Flytepacker packraft (right) for about $300 in coated nylon. Stats are 35oz/1kg, 46″/117cm wide, 67″/170cm long. At nearly four feet wide on the water it won't perform like an Alpacka but you won't fall out of it either. With no D-ring attachment points I guess you put your pack inside and sit on it.
The Flytepacker is a 'trail boat' appealing to hikers who occasionally need to cross rivers and calm lakes but otherwise want something light and compact. There are many routes in Scotland that open up with a boat like this, but in my experience staggering off track over sodden Scottish moorland paddling is often preferable to walking. Add some wind and small waves (and my weight) and I find the benefits of a more river-worthy raft like an Alpacka (with it's optional spray skirt) outweigh the added weight.